Welcome to Northfield Physical Therapy!
IMPORTANT COVID 19 HEALTH AND SAFETY INFORMATION
---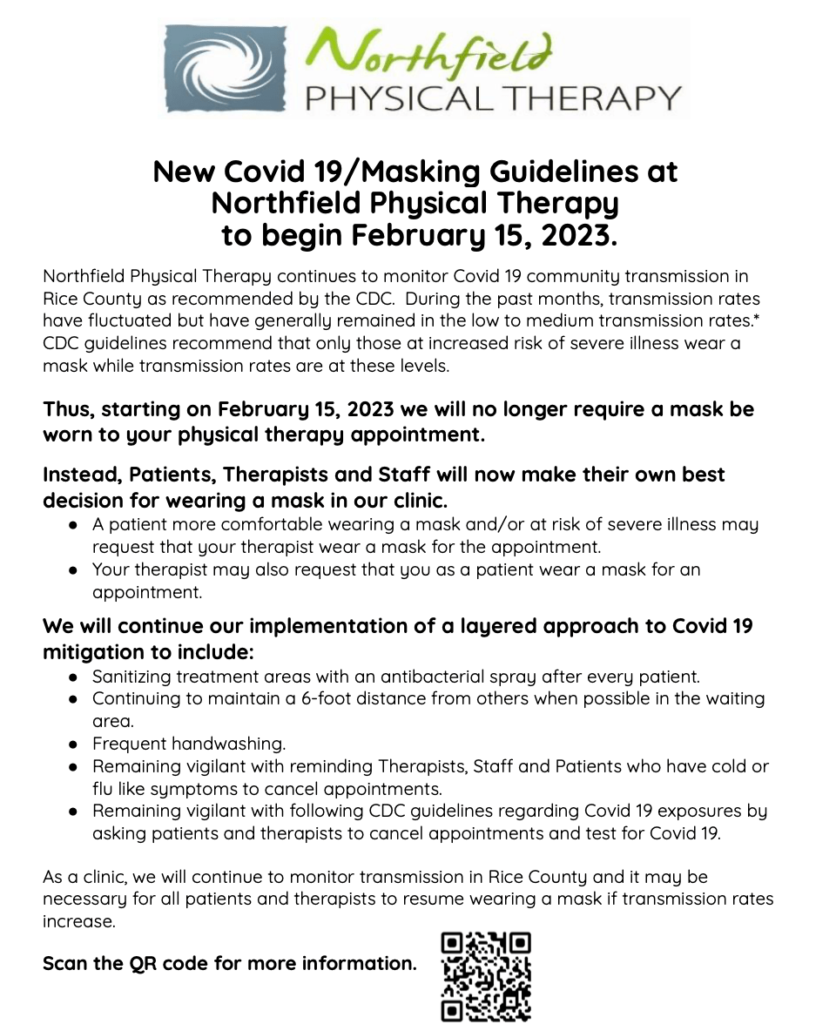 We ask that you help us continue to stay open to provide care to you and all our patients, including those most vulnerable to COVID-19 by completing the SELF-SCREENER BEFORE COMING TO OUR CLINIC FOR A PHYSICAL THERAPY APPOINTMENT.
HOME HEALTH SCREENER FOR PATIENTS AND STAFF
You are required to call and reschedule if anyone in their household, or anyone they have been within 6 feet for more than 15 minutes in a 24-hour period has cold or

flu-like symptoms or has tested positive for COVID-19.

Home Health Screening Questions: ALL PATIENTS MUST COMPLETE A SELF-SCREENER PRIOR TO COMING INTO OUR CLINIC. Please click here to view and/or download and print.

A yes to any or even just one of the screener questions below means you must cancel your therapy appointment.
HOME HEALTH SCREENING QUESTIONS:
Does anyone have fever, chills, or muscle pain?
Does anyone have a new or worsening cough?
Does anyone have difficulty breathing?
Has anyone experienced a new loss of taste or smell?
Does anyone have a sore throat, new onset of nasal congestion?
Does anyone have a runny nose?
Does anyone have vomiting, diarrhea, or nausea?
Does anyone have a new or severe headache or excessive fatigue?
Has anyone had close contact* with someone who has tested positive for COVID?
Has there been a COVID outbreak at your work or school in the last 21 days?
*Close contact is defined by the CDC as closer than 6 feet for more than 15 minutes over 24-hour period to an individual.
If you need to cancel your visit for any of these reasons, please call the office at 507-645-8325.
As therapists and staff, we are committed to our personal health as well as your health. We are using an abundance of caution in our daily lives while we continue to sanitize our examination tables as well as other areas in our clinic to ensure safety.
We will cancel your appointment if we are sick.